Today's latest trending news in Nigeria is coming all the way from Borno State in Northern Nigeria, where a Nigerian Police Officer From Borno State, who goes by the name of Inusa Saidu disclosed this on Facebook.
This Man, who is a Nigerian Police Officer, said that Christians are trying to kill his Buhari, and that if they succeed, which means if Buhari died, that he will kill 200 People in retaliation.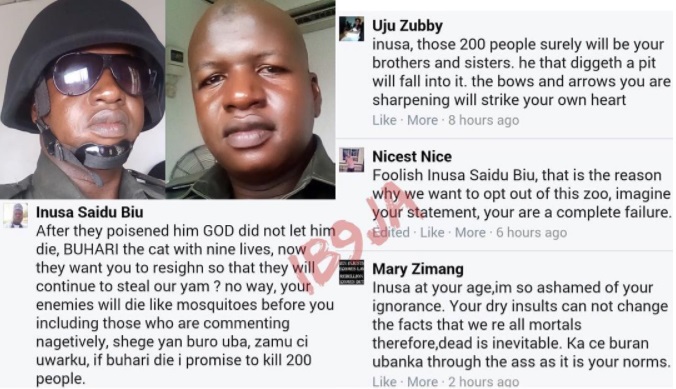 According to what he disclosed on his facebook page, the Nigerian police officer, Inusa Saidu vows to kill 200 people if President Buhari dies.
Hope you also remember when an Igbo Man called his dog Buhari and the trauma he went through?
Hope you recalled when Police arrest Audu Maikori, Chocolate City boss for talking about the Southern Kaduna killing?
Now Nigerians are waiting on DSS and other security agency to see their reaction to this public threat.